Principal's Message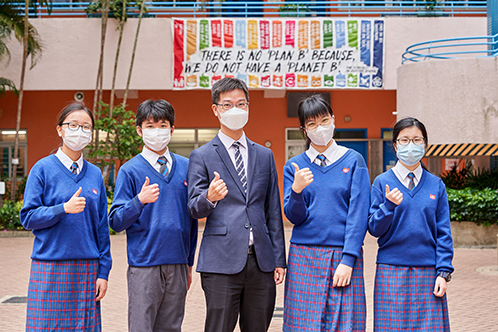 I believe schools play a critical role in helping students achieve personal excellence. Getting students to give their best requires the nurturing within them a set of positive values, developing their social skills and professional competencies in a way that is short lived, but is also conducive to producing a life-long learning attitude. Our aim is not only long but broad. The administration works with teachers for the betterment of society. We strive to produce well-educated graduates who are open-minded, loyal and dedicated citizens.
We advocate the following areas:
(1) providing quality education that fosters self-directed learning
Our teaching team is energetic and eager to learn. CFSS has established culture of project learning and curriculum reform. There are plentiful campus resources that can be well utilized for learning and teaching. Our school has continually put Student-centred Learning as one of the major school concerns in the School Development Plan. Experiential Learning enables students to learn at their ease. Nearly 1100 plant species have been cultivated in the Environmental Trail & Rooftop on the campus. The Wi-Fi network and well-established CFSS Cloud Knowledge-based online platform have removed barriers in experiential learning of plant biodiversity. This kind of experiential learning framework is not limited to Biology, but has been adopted in other subjects too.
(2) helping students develop perseverance and a positive attitude towards challenges
Y2K youngsters are confronted by adversity in study, friendships, family and other personal matters. We strengthen students' ability to endure adversity through culturing a "SMART Healthy School Life". Peer counselling and student support programmes work together to produce a positive outlook on life and the problems that inevitably arise.
(3) cultivate students to be the caring individuals
As the world is entering the era of the 4th Industrial Revolution, people are more individualized and personal communication is hampered as students find more satisfaction in the virtual world. Cases of internet addiction, cyberbullying and Internet crime are not uncommon. We equip youngsters with skills to develop good interpersonal relationships, alertness to others' needs and awareness of growth areas for self-actualization. Teachers take an important role in helping students care for those around them. They are the role models in whole-person development and positive values.
Last, but not least, we, with the support of parents, help our children turn their dreams into reality. I invite you to visit CFSS and look forward to meeting you. Please continue to check the CFSS web page for upcoming information.
Ho Tik Shun

School Principal
---